Updates from the Housing & Community Development Committee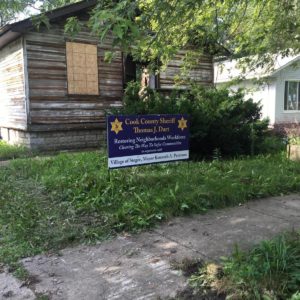 The Housing & Community Development Committee finished projects to update three more blighted properties this summer, which will bring the total to 6 before the end of 2016.
Two of the recent properties were demolished through a partnership with the Cook County Sheriff's  "RENEW Program", where selected non-violent offenders receive an opportunity to learn job skills in structure deconstruction and safety. The participants most recently demolished buildings on the lots of 3040 & 3038 Chicago Road.
A third property, located at 36th and Morgan, was originally purchased by the South Suburban Land Bank Authority in 2015 on behalf of the Village of Steger. It was then sold, rehabbed, and given a certificate of occupancy to a local Steger family, who is happy to be enjoying their first home.
Committee Chair Alice Peterson says "This progress is not over yet. The Housing & Community Development Committee intends to continue taking advantage of these partnerships. We are thrilled with the momentum we have so far, and we see more opportunities to continue that pace."
---