Steger & Cook County Sheriff's Office Partner To Reduce Blight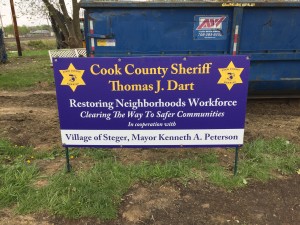 The Village of Steger and the Cook County Sheriff's Office are working together to remove unsafe and abandoned homes. The Restoring Neighborhood Workforce, or RENEW program, "aims to reduce neighborhood blight…while also providing vocational training to a targeted group of inmates." Inmates receive deconstruction and safety training, providing them a skill to use once they are released.
Municipalities are responsible for ensuring properties are safe for deconstruction (no asbestos or other hazards) and providing waste removal services. The program has resulted in the removal of dozens of unused buildings, including the most recent home in Steger, located at 40 E. 31st Street. The mutually beneficial program has been successful this far and likely will continue to expand as needed.
---