Code Enforcement Stepping Up Efforts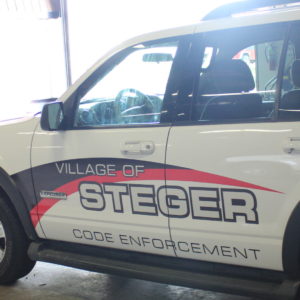 The role of Code Enforcement is to ensure properties are properly maintained and that they comply with all Village ordinances. The department increased its efforts in 2016, and the momentum is increasing still as Fall turns to Winter. At press time, over 240 tickets for Adjudication Violations have been issued, more homes have been to housing court, and the department will likely issue 100 48-hour warning tickets before the end of the year.
Steger Code Enforcement is also partnering with the new Community Service Officer (CSO) on the Police force to improve the safety of Village neighborhoods and to ensure compliance with Village ordinances.
Together, Code Enforcement and CSOs can achieve more than they can separately. The role of a CSO is to support the Police in matters where full officer powers are not necessary. For example, consider an instance of a vacant home. Code Enforcement is responsible for ensuring the landowner takes care of the property and its security. A CSO can assist in the event any squatters take advantage of the empty building.
Alice Peterson, the Chair of the Housing & Community Development Committee, is facilitating the collaboration. "Community involvement is essential," she says. "Although we try to take care of all issues, the CSO is a great help in focusing our efforts by being our liaison to the citizens."
---