Michael J. Tilton
Village Administrator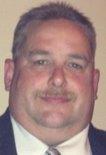 Michael J. Tilton was appointed the Village Administrator in August 2013.  Prior to taking that role, Mike served as a part time patrolman for the Village for the past 14 years and also as a Trustee for the Village of South Chicago Heights for 9 years. Mike was also appointed to the Crime Free Housing Administrator for the Steger Police Department in 2012. He retired from all three roles to take the Village Administrator position.
Mike has served 7 years on the Village of South Chicago Heights Zoning Board and 4 years on the Steger –South Chicago Heights Library Board, including 2 years as Board Vice President.  He is the Chairman of State Representative Anthony DeLuca's Public Safety Advisory Committee, as well as a member of Southland Chamber of Commerce and the South Suburban Chiefs of Police.  He is currently Vice President of the Exceptional Children's Charity and a member of the Knights of Columbus.  Mike also retired from the Cook County Sheriff's Office in 2013.​
Mike earned his Bachelor of Science degree in law enforcement management form Calumet College and his Master's degree in public administration from Governors State University.
---
Email